Recipes
Honey Nut Cinnamon Biscotti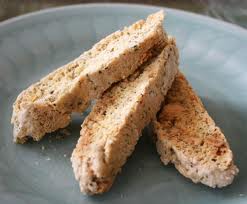 Sharing is such a part of who we are. Got a friend or coworker that you would like to bake something for but they cannot or choose not to eat eggs or dairy? Here is a biscotti recipe free from both. You can jazz it up with flavor combinations of your choice.
You'll Need
2 cups all-purpose flour

½ cup plus 1 Tablespoon sugar
¾ cup blanched almonds, finely ground
¾ cup whole almonds, coarsely chopped (or other nut such as macadamia nuts, pecans or walnuts)
½ teaspoon baking powder
½ teaspoon baking soda
½ teaspoon cinnamon
1/3 cup honey
1/3 cup water
Directions
Preheat oven 350

Combine everything except honey and water and stir to mix. Next add in honey and water and stir until a firm dough forms. It may help to use your hands to mix dough.

Divide in half and form two narrow logs, approximately 12 to 14 inches in length.

Place on a baking sheet lined with parchment paper.

Be sure to leave room between logs for spreading.

Bake until firm and risen approximately 20 minutes.

Take out of oven and let cool for 8 minutes. Then slice on a diagonal about ½ inch thick.

Slightly separate and bake another 15 to 20 minutes until lightly golden and fairly dry. Bake longer if needed.
Related