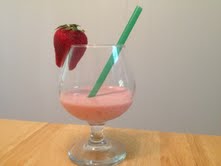 One simple word sums up this recipe… YUM! It's easy to make and is a crowd-pleaser! Take advantage of strawberry season by enjoying them in smoothie form.
You'll Need
1 cup frozen strawberries
1 teaspoon chopped mint
½ cup orange juice
¼ teaspoon vanilla
½ cup plain yogurt
Directions
Place everything in a blender and blend until smooth.
Add some crushed ice if you would like.
Save
Save
Related