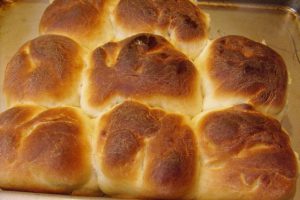 This is a wonderful recipe taken from the Three Rivers Cookbook.
It's a fantastic roll to serve as a complement with any holiday  meal.
Yields approximately 36 rolls
¼ cup warm water

1 Tablespoon sugar

1 package dry yeast

½ cup sugar

2 cups lukewarm water

½ cup oil

3 teaspoons salt

1 egg

7 cups flour (approximately)
Mix first three ingredients and let stand 10 minutes.
Blend remaining ingredients and mix with the liquid mixture. 
Let rise until doubled in bulk, knead down and let rise a second time.
Shape into rolls, cover with a cloth and let stand overnight. (Do not refrigerate!)
Bake the next morning at 350˚ until brown, about 15 minutes.
You can freeze the rolls.